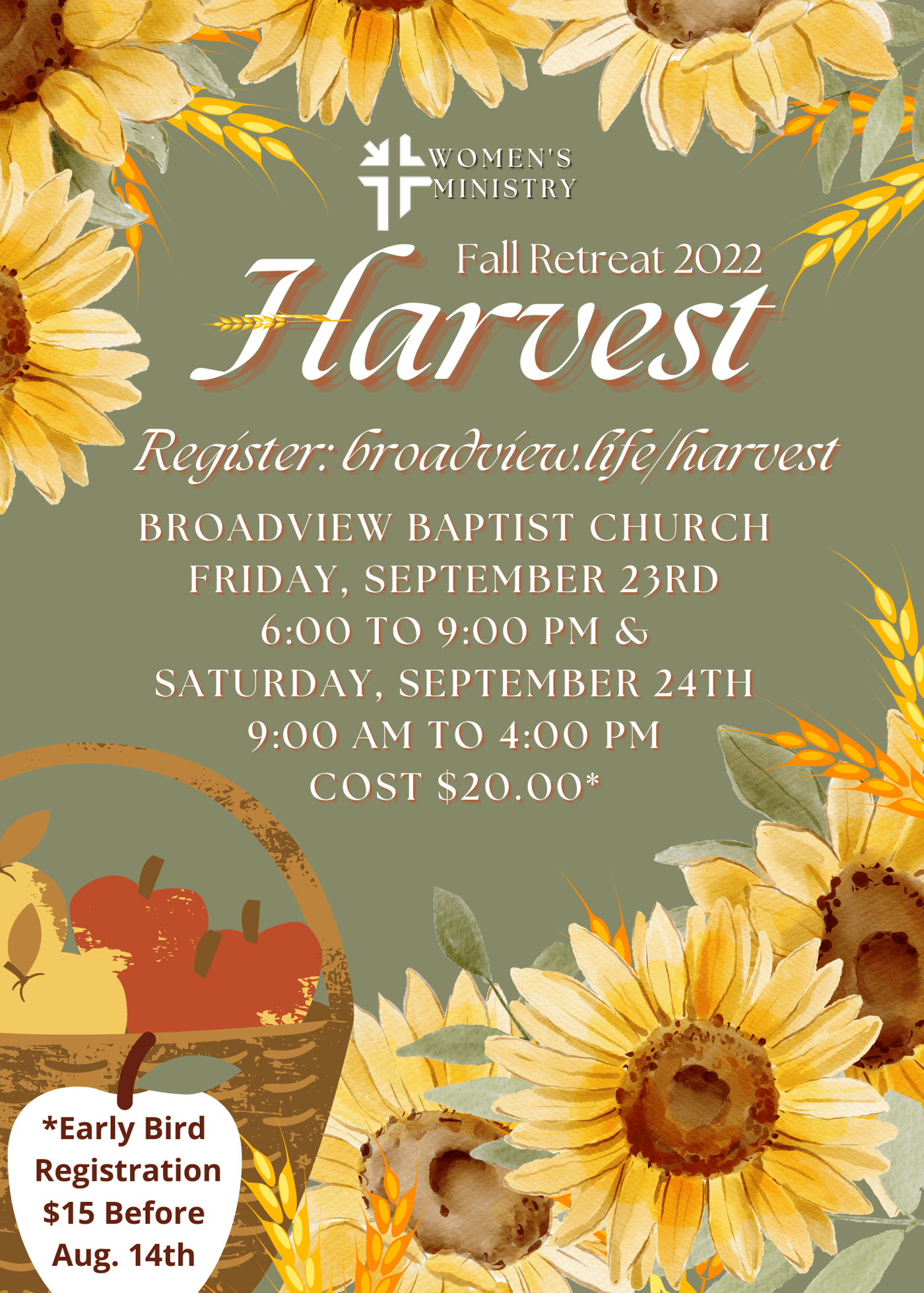 Broadview Women's Ministry invites women of all ages and stages of life to join us for a weekend to experience the harvest and the abundant life in Jesus as we continue our year of growth. Cost is$20! Early bird registration is only $15 now through August 14th! All participants should register by September 14th to ensure we have supplies for all. Invite your friends and register today!
"Let us not become weary in doing good, for at the proper time we will reap a harvest if we do not give up."
Galations 6:9
Fall Retreat 2022: The Harvest
Special Guest Speaker: Sherrie Saltzgaber, Prayer and Freedom Ministries Pastor, Beltway Park Church
About the Speaker, in her own words:
I've been teaching the Word of God since 1981 and in full-time ministry at Beltway Park since 2002. My role as the Prayer & Freedom Pastor allows me to develop, coordinate and teach kingdom and freedom principles to all ages. Our ministry trains and equips prayer partners in areas of freedom, intercession, healing, and prophecy, while also partnering with other ministries in order to activate believers to hear the voice of the Lord and release strategies to win spiritual battles.
I love to travel nationally and internationally imparting and teaching truths that set the captives free, turning them from darkness to light. It is my passion to partner with other ministries and churches to build up leaders, by equipping them with Freedom material and tools to impart to their regions.
I've been married to my husband, Dirk, since 1981, and we serve together in the healing ministry as well as overseas missions to Ireland. We've been traveling to Ireland since 2004. We are parents to four grown children and their spouses, and proud grandparents of thirteen. We love to spend time on our land and in our prayer garden interceding for Abilene and the nations.
After finding freedom and victory in my own life, by applying the Word of God, I believe the Lord has called me to encourage other believers to do the same. My love for Jesus is the driving force that empowers me to equip others in order to set captives free, and help individuals cultivate a more intimate relationship with God. My desire is to see the Body of Christ set free, walking in its true identity and using its gifts and anointing to advance the Kingdom of God here on earth. I enjoy living the Restored, Renewed and Renamed life!