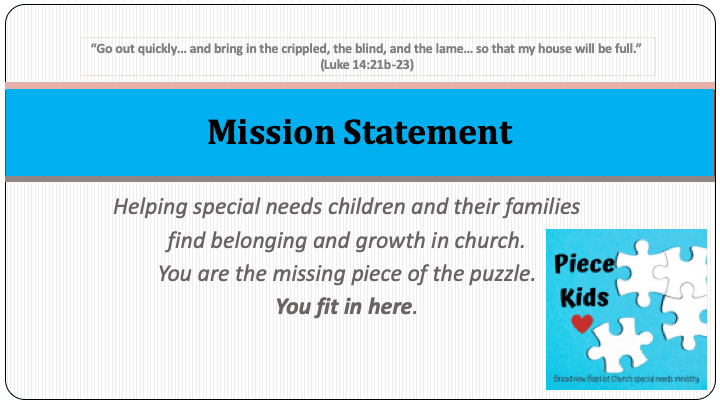 PIECE KIDS
Consider These FACTS About Ministry to Special Needs Families
According to the Center for Disease Control (CDC) in 2018, 1 in 59 children were diagnosed with autism. In 2000, it was 1 in 150.
Almost 1/3 (32.3%) of special needs families said they had left at least one church because their child was not included or welcomed.
Nearly 50% (46.6%) of special needs parents said they refrained from participating in a religious activity because their child was not included or welcomed.
According to the National Center for Educational Statistics, 14% of public school students are in special education.
We think it's unacceptable that close to 50% of special needs families feel they must refrain from participating in weekly worship gatherings because of their family situation.
To meet this need, Broadview Baptist Church is starting a new children's special needs ministry this August 18, 2019 at the11:00 am worship service.
The ministry will meet in Broadview's Annex B (located in the North West corner of the West Parking Lot).
Parents will check in children through our Kid's Wing and they will be taken to Annex B from there.
First time visitors should go into Broadview's main building and follow the signage to the "Kids Wing." For more info about your first visit consider visiting our main website.
Volunteers must apply as a church volunteer, and pass a background check. For those who will work directly with special needs children, you must first attend a training that will be provided for you.
Please contact Robin Alexander, Volunteer Coordinator at (325) 370-9373 or email.
If you make a financial donation to Piece Kids it will be considered a tax deductible gift to Broadview Baptist Church. The money will be designated and only used for the needs of this ministry. The link will take you to our main church website where you can give conveniently and securely. Thank you!